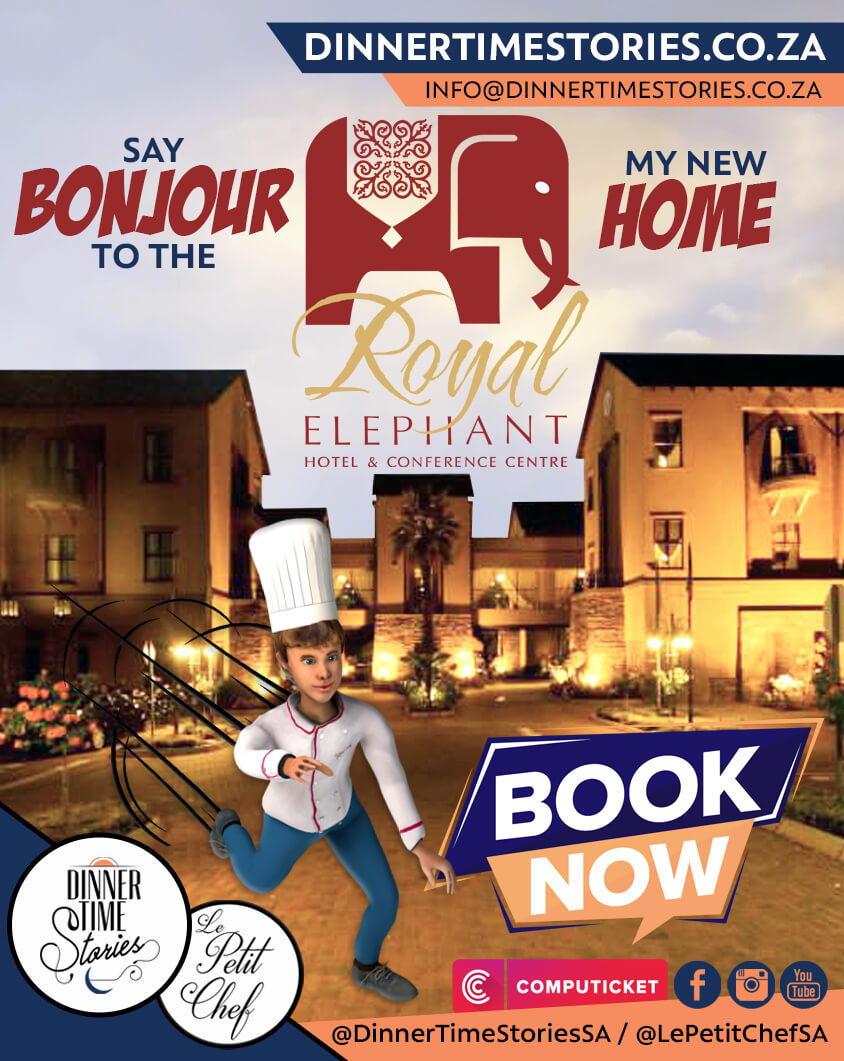 Say bonjour to the Royal Elephant Hotel & Conference Centre in Centurion, Pretoria, my new glamorous home!
Mon amies! Scrumbs, rucks and tackles are not the only things coming out of France. Yes, you guessed it, I am talking about myself of course! LePetitChefSA! 🧑‍🍳
The one-and-only world's smallest chef and I am excited to let you know that I am bringing something truly magnifique to Pretoria! 🍽️✨
I am thrilled to announce the upcoming opening of my sensational and captivating 'In the Footsteps of Marco Polo' show, right here at my glamorous BRAND-NEW home – the enchanting Royal Elephant Hotel & Conference Centre in Centurion! 🎉🌟
Mark your calendars, mes amis, because the grand premiere is set for Thursday, the 28th of September! Ooh là là, that's just in 3 weeks' time! 🗓️✈️
Don't miss out on the pièce de résistance – my LIMITED-TIME EARLY BIRD SPECIALS! 🐦🎫
This is a fabulous opportunity to experience a culinary journey like no other, all while enjoying our exclusive discounts! 💰🍽️
So, act fast and secure your tickets now to be part of this unforgettable adventure! 🎟️🚀
For more information on the mind-blowing 'In the Footsteps of Marco Polo' show click here 📲👀
Au revoir, mes amis! Can't wait to see you there! 🇫🇷👨‍🍳✨
Early Bird Pricing: R1295
Standard Pricing: R1395
Wine Pairing: R395.00 pp Computicket R425.00 pp at the Hotel
Welcome Drinks: 🕒Le Petit Chef Snap, Crackle and Pop Gin Surprise
The show will run on the following days and times per week:
• Friday and Saturday (19:00 to 22:30) – arrivals from 18:00
• Sunday (13:00 to 16:30) – children's lunch for ages 8-12 standard adult pricing applies to all seats – arrivals from 12:00
Diners are requested to arrive 30 minutes prior to the show start time in order to complete check-in protocols. Doors open 45 minutes prior to start.
Guests are to be seated 15 minutes before the show starts. No late arrivals will be allowed to enter the show.
Bonjour! I am Le Petit Chef, dedicated to taking your palate on an extraordinary journey.
Join me, the world's SMALLEST chef behind this immersive dining adventure in a beautiful and enjoyable way.
Dinner Time Stories SA and Le Petit Chef SA present an unmissable limited-time ⏰ pop-up sensory extravaganza that will blow your mind!
Prepare for a breathtaking, innovative, unique, and internationally acclaimed gastronomic experience.
Get ready for a feast filled with fun, surprises, and mind-boggling 4K tabletop projections that will engage your senses in a one-of-a-kind spectacle! 🌟🎭🍽️
With every story and course, the mood, music, table settings, and authentic imported props change, immersing you in the most visually stunning and enchanting experience you'll ever witness – we guarantee it! 🌟✨
To learn more or make a reservation, contact us today via phone, WhatsApp, or email.
For more information:
info@dinnertimestories.co.za | Call or WhatsApp during office hours only (081) 266-2661.
Share your experience by leaving a FACEBOOK RECOMMENDATION or GOOGLE REVIEW.
Join Le Petit Chef's mailing list for the latest news, exclusive offers, and more!
Don't forget to tag us @DinnerTimeStoriesSA @LePetitChefSA in your photos from your experience.