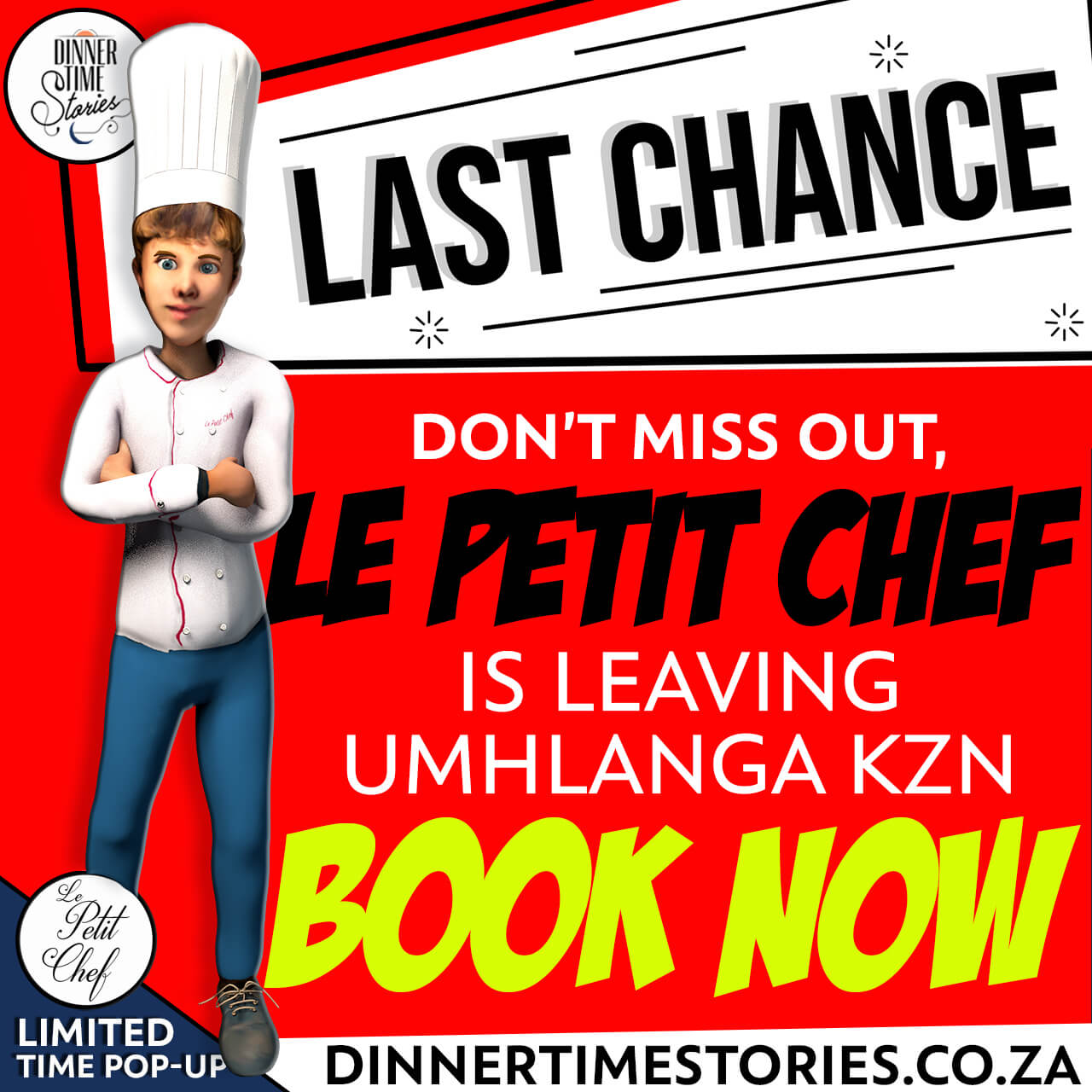 It's time to go big because Le Petit Chef is leaving uMhlanga KZN soon – don't miss out mes amis!!   
🎟️ Say no to FOMO by securing your tickets TODAY to one of Le Petit Chef's Au Naturel shows before he says his FINAL au revoir to uMhlanga KZN! 😱  
⏰ LAST JUNE DATES AVAILABLE! Time is running out for you to witness the culinary magic the world's tiniest chef brings to the table. This is the LAST opportunity to experience this incredible journey!🌟  
🍽️ Prepare to be whisked away into a world of flavours and artistry, where each bite is a moment to cherish. But remember, this captivating experience won't wait for you – act NOW to secure your spot! 🌍🍴  
🎭 Don't let regret be your seasoning – this groundbreaking blend of technology and artistry has astounded audiences worldwide, and this is your final chance to be a part of it before the chef embarks on his next journey. 🌌  
🎫 Time is ticking and the last June dates are disappearing fast – don't wait until it's too late! CLICK HERE and be a part of Le Petit Chef's extraordinary farewell performance. 🎉  
📅 This event is not to be missed! Be sure to share this post with your friends and family so they can also experience this once-in-a-lifetime opportunity!⏳🙌 
Hello… I'm the #LePetitChef and I go to extraordinary lengths for your palate. Join Moi, the chef of this epicurean immersive theatrical dining adventure, in a beautiful and fun way. Dinner Time Stories SA and Le Petit Chef SA's show is an unmissable sensory extravaganza that is a mind-blowing, innovative, unique, and gastronomic experience. It is internationally acclaimed and full of fun, surprises, and '𝓝𝓮𝓿𝓮𝓻-𝓣𝓸-𝓑𝓮-𝓕𝓸𝓻𝓰𝓸𝓽𝓽𝓮𝓷' 4K tabletop projections that will engage and immerse diners in a one-of-a-kind, 5-sense spectacle!  
The mood, music, table patterns, and authentic imported props and decorations all change with the epochs of the story and promise to immerse you in the most eye-catching '𝓭𝓲𝓷𝓲𝓷𝓰 𝓮𝔁𝓹𝓮𝓻𝓲𝓮𝓷𝓬𝓮' you will ever see – guaranteed! 
🌟 To learn more or book, we invite you to contact us either by phone, WhatsApp, or email today. 
For more information: 
Info@DinnerTimeStories.co.za | Call or WhatsApp during office hours only (081) 266-2661.  
We invite you to leave us a FACEBOOK RECOMMENDATION or GOOGLE REVIEW. 
Join Le Petit Chef's mailing list to receive the latest news, exclusive offers, & more! 
We would love to see the photo from your experience @DinnerTimeStoriesSA @LePetitChefSA