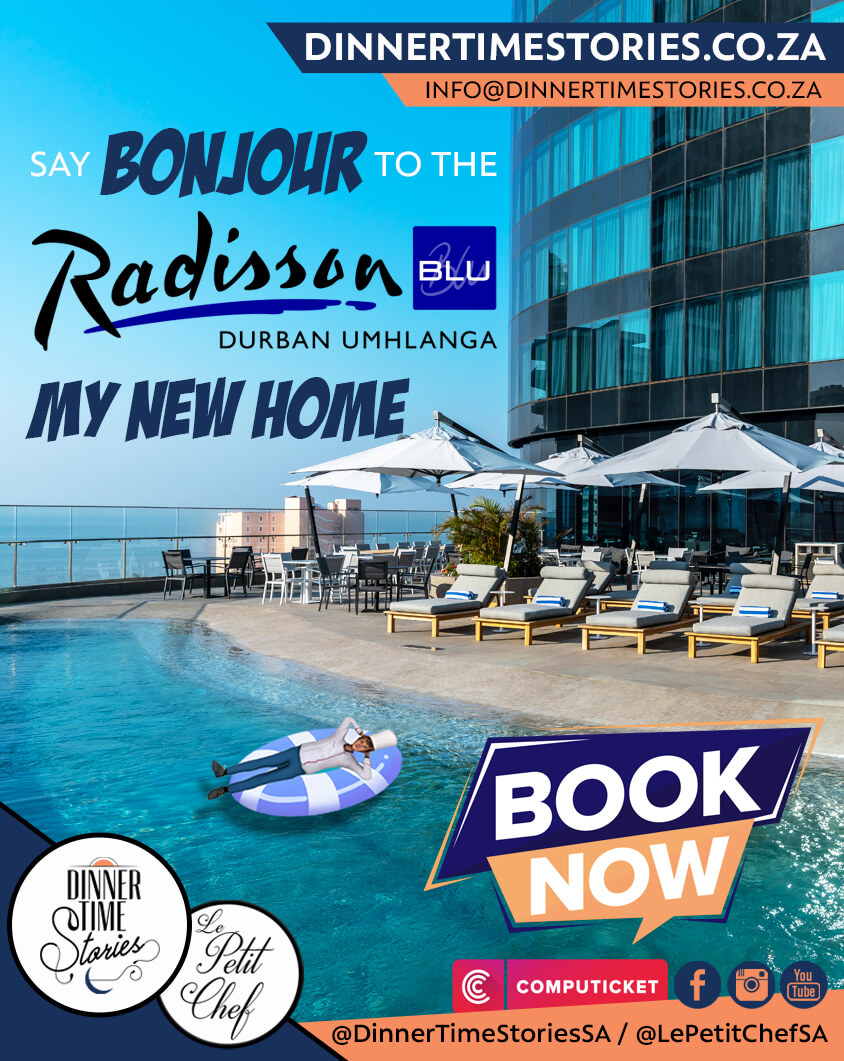 Say Bonjour to the Radisson Blu Hotel in Durban, Umhlanga Mon new glamoreux home!
Mon Ami, I'd like to begin my announcement with a riddle: 
"What has 5 stars and provides premium, 'never-to-be-forgotten' experiences that cater to your every need?" 
There are two answers… 
Myself of course LePetitChefSA, and my magnifique BRAND-NEW home The Radisson Blu Hotel which is located in the always warm and welcoming suburb of Umhlanga on the luxurious Durban coastline!  
I will be opening the show on Friday, the 3rd of March, so be sure to take advantage of my LIMITED-TIME EARLY BIRD SPECIALS! 
I am most eager to return to the warmth of my Umhlanga friends and the splendour of the Indian Ocean! What's not to LOVE about SUN, SEA, and SAND? I could not picture a better environment to appreciate all that NATURE has to offer! 
Hello… I'm the #LePetitChef and I go to extraordinary lengths for your palate. Join Moi, the chef of this epicurean immersive theatrical dining adventure, in a beautiful and fun way. Dinner Time Stories SA and Le Petit Chef SA's show is an unmissable sensory extravaganza that is a mind-blowing, innovative, unique, and gastronomic experience. It is internationally acclaimed and full of fun, surprises, and '𝓝𝓮𝓿𝓮𝓻–𝓣𝓸–𝓑𝓮–𝓕𝓸𝓻𝓰𝓸𝓽𝓽𝓮𝓷' 4K tabletop projections that will engage and immerse diners in a one-of-a-kind, 5-sense spectacle!  
The mood, music, table patterns, and authentic imported props and decorations all change with the epochs of the story and promise to immerse you in the most eye-catching '𝓭𝓲𝓷𝓲𝓷𝓰 𝓮𝔁𝓹𝓮𝓻𝓲𝓮𝓷𝓬𝓮' you will ever see – guaranteed! 
🌟 To learn more or book, we invite you to contact us either by phone, WhatsApp, or email today. 
For more information: 
Info@DinnerTimeStories.co.za | Call or WhatsApp during office hours only (081) 266-2661.
We invite you to leave us a FACEBOOK RECOMMENDATION or GOOGLE REVIEW. 
Join Le Petit Chef's mailing list to receive the latest news, exclusive offers, & more! 
We would love to see the photo from your experience @DinnerTimeStoriesSA @LePetitChefSA